Rose News for 'Emergency Relief' Category
Rose Charities Singapore has established a transport link into Thailand. Through a network of volunteers, friends and affiliates, emergency supplies are being purchased in neigbouring countries and transported to the areas in need.
Donations in the past 3 days alone have enabled us to purchase 1000 tins of milk power which will be sent to babies in evacuation centers through local Thai TV station ThaiTV3.
We are now sending out the call for canned food for those stranded at the flooded sites.
For SGD3.00 / RM7.20, the flood victims will get a set of the following items:
1. Cinta Sardine in tomato sauce at RM2.75/425g/can (retail is RM3.25/can)
2. Rex Baked beans in tomato sauce at 1.95/425g/can (retail is RM2.25/can)
3. 'Xiang Xiang' brand crackers abt 420gm (similar to Ping Pong brand) RM2.50/pack
Donations are needed to assist program and will be very gratefully received.
As always with Rose Charities, the program is run 100% by unpaid volunteers so every cent donated goes…
(http://www NULL.rosecanada NULL.info/wp-content/uploads/2011/10/thai-floods NULL.jpg)Thailand has been suffering the worst flooding in living memory. Over 300 people have died and thousands are homeless. In some areas food, especially for babies and the elderly with special needs is scarce.   Rose Charities relief efforts have been spearheaded by the newly formed Rose Charities Singapore in conjunction with Rose Charities Malaysia and Rose Charities USA (and other Rose organizations) are supporting through their efforts.   Emergency supplies are being donated and purchased both through contacts on the ground in Thailand as well as in those neigbouring countries, and transported to the areas in need.
Donations are needed to assist program and will be very gratefully received.  As always with Rose Charities USA, the program is volunteer run so every cent donated will go to work in the disaster area for those in need.   To donate, please see our donations page.
(2011-04-24)
AMDA has now shifted from direct medical to rehabilitation efforts. The medical systems of the are are now back and running and able to cope with the direct medical needs. Relief however will continue into the foreseeable future as needs are still huge. It is hard for many who have not seen the area to comprehend the magnitude of the destruction, social, physical, and infrastructural. Iwate Prefecture (the town of Ohtsuchicho):
Contrary to the arrival of a warmer season, the northeastern Japan still needs to endure occasional blizzards. And while entire Japan has entered a new school year from April, Ohtsuchi High School in the severely devastated Ohtsuchicho was no exception. In the midst of housing approximately 270 evacuees in the school gym, the school held a general assembly to embark on a new semester. Furthermore, the number of evacuees in the region has relatively decreased as a whole. As the focus of AMDA's relief activities shifted towards rehabilitative assistance from emergency medical relief, the team ended its regular medical consultation at the shelter and downsized its medical service solely to acupuncture therapy (mainly held by a locally-hired therapist.) For the next one month, the heavily damaged Ohtsuchi Hospital will offer medical services temporarily at a local community center. Meanwhile, the work is underway to resume their regular operation at their actual hospital building with new facilities that will allow X-ray, dialysis, blood tests, surgical operations and admission of patients. Among AMDA team members was a coordinator originally from Ohtsuchicho. Undoubtedly, things would not have gone so smooth without her presence. Miyagi Pref. (the town of Minamisanriku-cho): Besides a handover of AMDA's activities had taken place, the team organized a range of recreational activities for those persevering the prolonged evacuation life. On Apr. 19th at Shizugawa Elementary School, the team opened "Cafe de AMDA", a temporary cafe to serve hot chocolate and coffee to the evacuees. The event ended with great success which garnered more 70 visitors in one hour. The air was filled with aromatic fume from authentically brewed paper-drip coffee and some even said it was the first cup of hot chocolate they had after the disaster hit. AMDA staff also baked cookies with children using a temporary oven; the children enjoyed shaping cookie dough and had a fun and tasty time together. From now on, AMDA will back up Shizugawa Hospital during the rehabilitation phase. Latest dispatch of AMDA personnel: 27th group: 1 coordinator (Apr. 18th) 28th group: 1 nurse, 2 coordinators (Apr. 20th) Total number of AMDA's relief personnel (as of Apr. 18th): 146 50 doctors, 32 nurses, 4 midwives, 2 assistant nurses, 3 pharmacists, 2 psychotherapists, 50 coordinators (including interpreters), 2 careworkers, 1 acupuncture therapist
(2011-04-14)
After one month has passed since the catastrophic earthquake and tsunami that hit north-east Japan, people in the afflicted regions participated in a silent prayer on Apr. 11th. Even now, innumerable aftershocks are shaking the country which is causing the delay in the recovery of infrastructures and giving people high level of stress. Meanwhile, schools and hospitals are gradually getting back to normal with people making efforts towards it.
Iwate Prefecture (the town of Ohtsuchicho):
In order to uplift children's mood, toys and stuffed animals of a popular Japanese cartoon character was donated in response to the call for help from AMDA's pediatrician. The "Anpanman Program", named after the character, was initiated in line with the ongoing mobile clinic services which provides recreation time for children besides medical treatments. While a number of stressed-related ailments are seen among patients, the program aims to take care of children's mental health and put them at ease.
Other than the above, many patients complain of troubles with their eyes as they are exposed to the powder dust from the rubble. A nutritional program has also been implemented to improve the unbalanced diet of the evacuees and plans are underway to provide vitamin supplements as well.
Miyagi Pref. (the town of Minamisanriku-cho):
While mobile clinic services were delivered to Omori district in Minamisanriku-cho, the local Shizugawa Hospital has taken over the temporary prefabricated clinics from the Israeli medical team. The hospital has put its hands on resuming their regular operations and is expected to be normalized gradually.
Norovirus is still prevalent in Minamisanriku-cho, however, the preventive/hygiene measures implemented by AMDA have been effective in controlling the outbreak. From now on, hygiene awareness will be very important due to the arrival of a warmer season. There are 5 norovirus patients out of 360 evacuees at Shizugawa Elementary School.
After receiving the above report, AMDA sent relief goods such as vitamin supplements, dust-proof goggles and paper towels to both Iwate and Miyagi.
Latest dispatch of AMDA personnel:
23rd group: 1 acupuncture therapist, 1 nurse (Apr. 11th)
24th group: 2 doctors (including AMDA President) (Apr. 12th)
Total number of AMDA¡Çs relief personnel (as of Apr. 12th): 131
48 doctors, 27 nurses, 3 midwives, 2 assistant nurses, 3 pharmacists, 2 psychotherapists, 43 coordinators (including interpreters), 2 careworkers, 1 acupuncture therapist
(2011-04-06)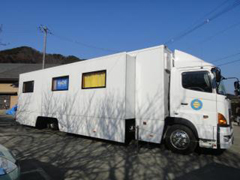 'AMDA to Support Local Doctors by Donating Temporary-Clinic Units'
AMDA President, Dr. Shigeru Suganami held a press conference at AMDA Headquarters in Okayama, Japan on 5th April, announcing that AMDA will complete the emergency relief operations in the afflicted areas by the end of April and shift to rehabilitative assistance. The main project in the next stage will be to donate temporary-clinic units to local doctors whose clinic buildings were destroyed or washed away by the catastrophe.
AMDA has already been providing medical care after setting up a mobile-clinic trailer equipped with devices such as intravenous drip (IV) and electrocardiogram (ED). AMDA is also planning to construct two temporary clinics in Ohtsuchi-cho (Iwate Pref.) and Minamisanriku-cho (Miyagi Pref.) respectively. Setting up a temporary clinic (including various medical equipments and supplies) will cost around 10,000,000 yen (about 118,000 USD).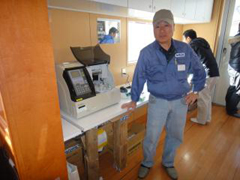 AMDA has heard that there are a number of town doctors who lost their clinics in the tsunami. Dr. Suganami appealed that there is a need of support in the form of a state-run loan offered to the local doctors in rebuilding their daily operations as soon as possible.
Dr. Suganami also reported that AMDA employed twelve locals as drivers, care workers and operational staff. He appreciated their knowledge of local geography and human relationships which greatly helped AMDA's activities.
From now on, AMDA is going to support the rehabilitation of schools. To begin with, AMDA will give out "back-to-school" kits containing stationery and school bags.
In collaboration with foreign medical organizations, plans are also underway to establish a scholarship program for the local high school students that are aiming to become doctors/nurses in the future.
(2011-04-02)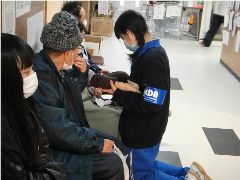 After three weeks have passed since the unprecedented earthquake and tsunami, the climate has become relatively mild from the time when the disaster struck Tohoku and Kanto regions. However, whilst the evacuation life prolongs with the recovery of lifelines stagnant at this stage, more and more people have complained a chronic sick feeling.
Emergency medical needs have decreased as a number of medical teams are now active in the devastated sites. Hence, along with the ongoing medical relief activities, AMDA has begun shifting its target to the highly-demanded elderly nursing from Apr. 1st.
AMDA will be launching a nursing-assistance program in collaboration with a Japanese company specialized in the field. From now on, careworkers will be sent to AMDA's work site to work with the existing teams; providing the elderly nursing care in rotation.
As of Apr. 1st, from AMDA there are 24 personnel in Ohtsuchicho (Iwate) and 9 personnel in Minamisanriku-cho (Miyagi) respectively.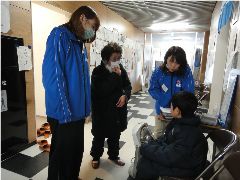 Iwate Prefecture (the town of Ohtsuchicho):
Along with the regular medical services, one of AMDA doctors started to offer acupuncture treatments at Ohtsuchi High School.
Meanwhile, AMDA and its partners, namely, AMDA Indonesia, MERCY Malaysia, Medipeace (Korea), Bangkok Hospital (Thailand) and Network Chikyumura (Japanese NGO) have decided to launch a scholarship program for the disaster victims.
The scholarship is targeted to the high school students in the disaster-stricken areas who wish to become a doctor in the future. Besides financial assistance for three years, the scholarship aims to provide international cultural exchange opportunities through the support organizations.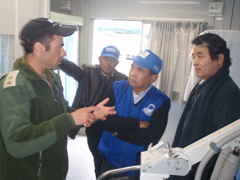 Miyagi Prefecture (the town of Minamisanriku-cho):
At Minamisanriku-cho, it is foreseeable that due to the relocation of the residents (1,100 people) the number of evacuees will decrease from now on. At the same time, the medical supplies have been currently fulfilled.
AMDA held a briefing session on norovirus in preparation to the potential risk of breakout as the sanitary condition in the shelter has been deteriorating due to the prolonged evacuation life.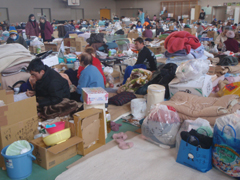 Latest dispatch of AMDA personnel (as of April 1st):
2 careworkers for the nursing-assistance program (Ohtsuchicho, Iwate Pref.) (Mar. 31st)
17th team: 8 personnel (2 doctors, 3 nurses, 1 counselor, 2 coordinators) (Apr. 1st)
Total number of AMDA's relief personnel as of April 2nd: 108
39 doctors, 20 nurses, 2 midwives, 1 assistant nurse, 3 pharmacists, 2 psychotherapists, 39 coordinators (including assistants and interpreters), 2 careworkers
2011-04-01)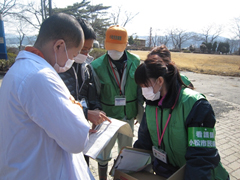 AMDA's medical teams, one in Iwate and one in Miyagi prefecture, are making untiring efforts towards caring for the victims and evacuees. On average, about ten to twenty staff work in each team at a time. Individual staff members are staying in the disaster areas for about a week, as they are taking time away from their own jobs and responsibilities. AMDA secured hotel rooms in a city some distance from the evacuation centre so that the staff could relax at night in rotation. However, many doctors and nurses said that they would prefer staying in the evacuation centres with the victims, as they did not want to waste time for traveling.
Iwate Prefecture (Kamaishi City and the town of Ohtsuchicho):
The AMDA team working at Futaba Elementary School in Kamaishi city was invited to the Graduation Ceremony on 29th March, and joined local people in celebrating the children's completion of their 6-year course even in such a difficult time. On the 30th, doctors from Iwate Prefectural Hospital arrived in the evacuation centre of Kamaishi city, and the AMDA team handed over patient records to the Iwate Prefectural Hospital team and gave them a briefing on their activities. On the same day, AMDA started setting up a vehicle with equipment to provide the intravenous drip (IV). This ¡Èmobile IV centre¡É will start operation soon.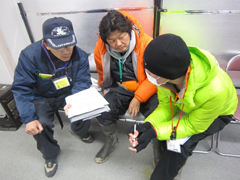 Meanwhile, missions from overseas that had arrived on 28th supported AMDA team¡Çs medical activities at evacuation shelters in Ohtsuchi-cho. They held a small international conference to discuss ways of supporting victims, and concluded that they would set up a long-term plan of supporting young people by providing a scholarship to high school students. This proposal was received favourably by the schoolmaster of Ohtsuchi High School.
Miyagi Prefecture (the town of Minamisanriku-cho):
AMDA's other team is based in Sizugawa Elementary School in Sanriku-cho and providing mobile clinic service to those who cannot leave their homes and cannot come to the evacuation centre. The team, cooperating with local health workers, keeps in mind that the elderly people concerned should receive medical service as comfortably as possible. A psychiatrist and a psychotherapist in the team are treating those who have symptoms of stress or mental disorder.
Other Activities:
AMDA also received a request for information from an Israeli mission who arrived in Japan the previous week. AMDA and the Israeli team have been exchanging information on their activities.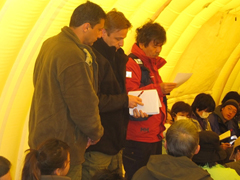 (2011-03-29)

In response to an increasing number of requests coming in from foreign organizations in joining AMDA's relief work, AMDA has started to collaborate with the overseas relief teams.
Iwate Prefecture (Kamaishi City and the town of Ohtsuchicho):
Relief supplies and medical services have been relatively fulfilled at the larger evacuation centers in Kamaishi City, however, the stock management of the aid goods has been an issue.
On the other hand, communication lines have not yet recovered in the town of Ohtsuchicho where some of the evacuation shelters in the remote area are left deserted. AMDA team uses electric vehicles to deliver mobile clinic services to these shelters and uses other means to enter the sites in a mountainous area where road access is difficult.
Most of the patients are the elderly who cannot go to the hospital even after their medicines ran out. For this reason, health conditions of the patients with chronic diseases have been worsened as they were left untreated. Hence, AMDA team is delivering mobile clinic services to these sites on a regular basis.
Miyagi Prefecture (the town of Minamisanriku-cho):
Minamisanriku-cho
AMDA personnel have been working in two teams at Shizugawa Elementary School and Shizugawa Junior High School.
The team in Shizugawa Elementary School is working with a local doctor who is spearheading the medical relief. They are also providing mobile clinic services to smaller evacuation shelters.
Ailments such as depressive symptoms, panic disorders and suspected influenza cases were found among some of the patients, however, the most pressing issue is the fulfillment of medicines for those with chronic diseases. The patients have no means to obtain their medicines after they ran out. Likewise, AMDA tries to complement this by delivering mobile clinic services.
As of now lifelines including electricity, gas and water have not yet recovered in the area.
Latest dispatch of AMDA personnel (as of Mar. 29th):
14th team: 4 doctors, 1 psychotherapist, 2 coordinators, 2 nurses (Mar. 27th)
15th team: 2 doctors, 1 pharmacist, 3 nurses, 1 coordinator (Mar. 28th)
Teams from the overseas (Mar. 28th-29th):
1) Korean team (Korean Medical Association, Medipeace): 3 doctors, 2 coordinators, 1 interpreter
2) Malaysian team (MERCY Malaysia): 2 coordinators
3) AMDA Indonesia team: 2 doctors (including AMDA chairperson), 2 medical students
The number of AMDA's relief personnel thus far: 88
35 doctors, 14 nurses, 2 midwives, 1 assistant nurse, 3 pharmacists, 1 psychotherapist, 30 coordinators, 2 medical students
Stay tuned for more updates.

(2011-03-27)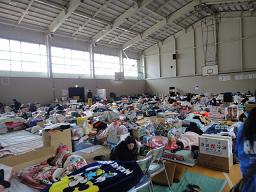 Iwate Prefecture (Kamaishi City and the town of Ohtsuchicho):
1) Ohtsuchicho
The medical infrastructure in the town of Ohtsuchicho was totally devastated due to the torrential tsunami. The clinics and hospitals in the coastal area were all washed away and their doctors and nurses were displaced as well. Hence, they are engaged in relief activities while they themselves are evacuated at the evacuation shelters.
The medical activities in Ohtsuchicho were headed by the staff of the local Ohtsuchi Hospital which also helped AMDA in procuring medical supplies. However, as the hospital had to undergo the suspension of their services until Apr. 15th (for the first time since the tsunami hit; allowing its employees to take some time off to take care of their personal matters), the evacuation shelters under its direction have been facing difficulties in their daily operations.
At Ohtsuchicho High School, due to the lack of coordination, things have been rather confounding as many relief organizations come and go in a short period of time. As of Mar. 24th, teams from AMDA as well as Osaka and Aomori's medical associations have been active (all comprising a number of staff.) It is also reported that having a pharmacist in the team is very important in providing coherent services as most of the medicines are generic ones.
Majority of patients at Ohtsuchi High School are those with chronic diseases. Therefore, they all requested the medicines they regularly take.
One of AMDA doctors accompanied a local volunteer to deliver mobile clinic services to a remote community in mountainous area where assistance hadn't reached. In the community where there were about fifty households (most of them elderly) the patients with chronic diseases had been left untreated. Among the patients were diabetes patients with abnormally high blood sugar level or those with excessive high blood pressure. In response to this, the team delivered mobile clinic services on a regular basis.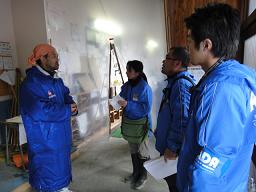 Contrary to Kamaishi city, the disaster headquarters in Ohtsuchicho has been very much isolated as lines of communication have not yet recovered. The road access to the headquarters is not easy either where the roads are covered by debris.
AMDA team members assume that it is going to take a lot of time to have the medical infrastructure recovered, thus the assistance from external relief organizations is a must. It is also foreseeable that services such as nursing for the elderly would be resumed in the course of recovery.
2) Kamaishi City
Medical volunteers are regularly allocated at the disaster headquarters in Kamaishi City. People are counting on AMDA as its doctors themselves are always present at the daily meeting. Large amount of medicine donated from all around the country has exceeded the capacity of the initial storage so that the stock management has been handful.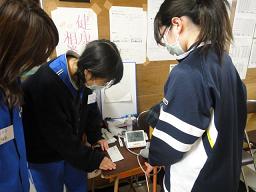 Miyagi Pref. (the town of Minamisanriku-cho):
1) Minamisanriku-cho
AMDA has been visiting several evacuation shelters in Minamisanriku-cho on a regular basis, conducting mobile clinic services and on-site needs assessments.
At one iron factory where about thirty people have been evacuated, AMDA prescribed Tamiflu to the evacuees as there were several suspected influenza cases.
According to the surveys conducted in collaboration with other medical teams, following facts were found:
1)There are lots of people who cannot come and collect medicines from the evacuation centers .
2)Depressive symptoms have been increasing among the evacuees.
3)Suspected influenza cases (Tamiflu was prescribed for its prevention.)
4)Along with mobile clinic services delivered by doctors, health care workers are also conducting home-visiting on their own. In order to avoid the overlap, the close communication/referral between the two parties is a must.
A pharmacist from AMDA team sorted out the medicines donated from its donor. The stock management of medicines is considered very important when aid supplies are coming in one after the other.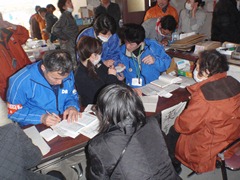 Shizukawa Elementary School:
Here, it is a local doctor who leads the medical relief, and there are about 50 to 80 patients to the temporary clinic daily. The prescription of medicine is for a maximum of seven days per patient; the doctors decided not to prescribe medicines for a long period if a patient can be cured within a few days. There are also several teams of psychiatrists dropping by in the area.
No gas, water or electricity in the shelter except for the nightly operation of a power generator that helps the evacuees to recharge their mobile phones. LED lights have been provided so the place is not totally darkened out. There are futons but no heating available. On Mar. 24th, the evacuees were able to take a shower for the first time after the disaster struck (40 people at a time every 30mins.)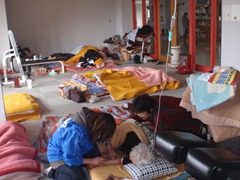 Shizukawa Junior High School:
Likewise, it is another local doctor that is in charge of the medical relief in the shelter. AMDA helped to deliver mobile clinic services to the vicinity and saw many patients with hey fever and high blood pressure. There were several severe cases such as inguinal hernia and hydrocephalia as well.
AMDA Emergency Bulletin #9: Japan Earthquake
(2011-03-25)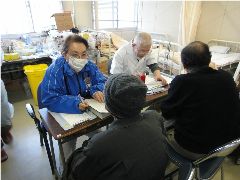 While aftershocks still continue in Iwate and Miyagi Prefectures, current cold weather (snowing in some areas) poses an extra burden on those who are withstanding the aftermath. However, a good news came from Kamaishi city (Iwate) that despite the lack of merchandise some of the convenience stores have started to resume services. Overall, the distribution of goods has been improving gradually.
On Mar. 24th, AMDA sent one coordinator to Minamisanriku-cho in Miyagi followed by additional dispatch of one coordinator to Iwate.
AMDA President, Dr. Shigeru Suganami, who returned from the disaster site on Mar. 21st will be rejoining the existing teams in Iwate accompanied by one doctor and one nurse.
On Mar. 25th, a truck loaded with medicines, sanitary goods and other aid supplies will leave for Kamaishi city and the town of Ohtsuchicho in Iwate responding to the inquiries from the local teams.
Iwate Prefecture (Kamaishi City and the town of Ohtsuchicho):
AMDA teams have been closely working together in four evacuation shelters, namely, Futaba Elementary School, Kamaishi City Gymnasium, Kamaishi Junior High School and Ohtsuchi High School. Thanks to the support from a pharmacy in Kamaishi city, the prescription and provision of medicines have been going much smoother than before. AMDA teams have been in touch with the local doctors on any matters pertaining to the handover of the activities, sharing the information on patients that are in need of continuous care.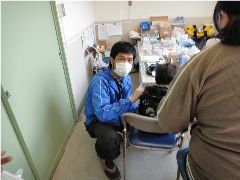 AMDA has been handing out the copy of one's clinical record to each patient for further convenience. It is also reported that medical teams will be sent from adjacent Aomori Pref. (north of Iwate) shortly, thus leading to the improvement of the local medical infrastructure.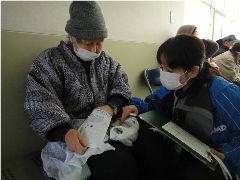 Miyagi Prefecture (Minamisanriku-cho):
All of AMDA personnel were relocated to Minamisanriku-cho and have been working at Shizukawa Elementary School since Mar. 23rd. AMDA is mainly supporting a local doctor who had already been active in the area. In order to fulfill the needs at the smaller evacuation shelters where medical aid has been scarce, AMDA team is planning to deliver mobile clinic services.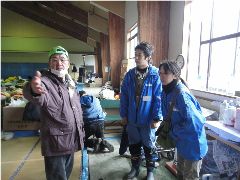 Now that the road access to Minamisanriku-cho has recovered, the transportation of relief goods has been relatively stable. Food supplies have been somewhat well-off and medicines can be delivered within a few days of ordering.
Latest dispatch of AMDA personnel (as of Mar. 25th):
12th Team: two coordinators (one to Iwate and one to Miyagi) (Mar. 24th)
13th Team: two doctors (including AMDA President), one nurse (Mar. 25th)
The number of AMDA's relief personnel thus far: 62
23 doctors, 10 nurses, 2 midwives, 1 assistant nurse, 2 pharmacists, 24 coordinators